Welcome to smscgateway.in
----------------------------------------------------------------------------------

SmscGateway.in offer the cheapest bulk sms services to our Bulk SMS Resellers in India. Create your own bulk sms users and bulk sms resellers. Our Bulk SMS service let's you focus on your business not the technical issues of sending out your mass bulk SMS.
Introduction to SMSC / What is an SMSC ?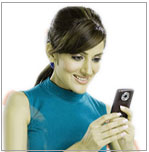 SMS messages are transferred between mobile phones via a Short Message Service Center. The SMSC is software that resides in the operators network and manages the processes including queuing the messages, billing the sender and returning receipts if necessary. Many operators now offer web based interfaces to their SMSC so we can send short messages to any mobile phone from the web. Some websites now offer free SMS.

Network consolidation from mergers and acquisitions has resulted in large wireless net works having nationwide or international coverage. This new class of service providers demands network-grade products that can reliably and easily provide a uniform solution, enable ease of operation and administration, and accommodate existing subscriber capacity, message throughput, future growth, and services. Short messaging service center (SMSC) solutions based on an intelligent network (IN) approach are well suited to satisfy these requirements, while adding all the benefits of IN implementations.
At SMSC Gateway we have a passion for technology. Our engineers and telecommunications experts are constantly working to enhance our core platform and mobile

1.

Create Unlimited Users & sub-resellers.

2.

Live delivery reports.

3.

Easy to integrate into your website or software.

4.

Web server login panel fully configured on your

Partner program's objective is to leverage strengths of its Partners. The reseller or partner Program helps its resellers to achieve quick growth in the business

You can start your own branded SMS reseller website with our web server connectivity. We provide you with all backend services that you need to be successful in selling the SMS keeping ourself