Keyword on Short Code 56161
--------------------------------------------------------------------------------

How SMS Short Code Service Works? - 56161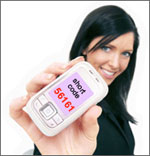 SMS Short code service is primarily used for lead generation or receiving feedbacks from the customers. In a shared short code environment every company which wants to avail this service will be provided with a Keyword (Keyword is an unique identifier for your company on our shared short code. e.g. if, your companies name is XYZ Ltd and you took a keyword say XYZL on our short code then every message which starts with XYZL and a blank space will be forwarded to your panel. In short we recognize the incoming messages on the basis of keywords and forward it to the respective companies account).



Features of 56161 Short code keyword:
1.  Unlimited Sub Keywords
2.  Complete Reporting
3.  Change auto replies as many times you want
4.  One Free sms as an auto response
5.  URL Forwarding to receive incoming SMS on your application
6.  Instant response and real time reporting
7.  Response can be forwarded to your URL
8.  Unmatched Services  in industry
9.  Inbox feature in Online web panel.
10.  Excel MIS download for offline lead tracking.
Reseller & Partner can buy keywords in bulk & sell to there customers at there own cost.Response will be configured to customer's INBOX available on there login panel.

Cost:Keyword on 56161 Short Code @ Rs 4500/- for 1 year
GST @ 18% extra

More discounts if you buy in multiple of 10 keywords at one go.--Applicable for resellers only.

URL forwarding available Partner/General Sales :

Call: 08750-001-001

business@outsourcedmarketing.in